[ Home ] [ Leadership ] [ About Bill ] [ News ]
Bill Rowell

- Franklin County Vermont -

Agriculture relies on leadership capable of recognizing our needs, bringing the system to focus on today's challenges and delivering responsible timely solutions.
Green Mountain Dairy
Vermont's Dairy Farm of the Year 2008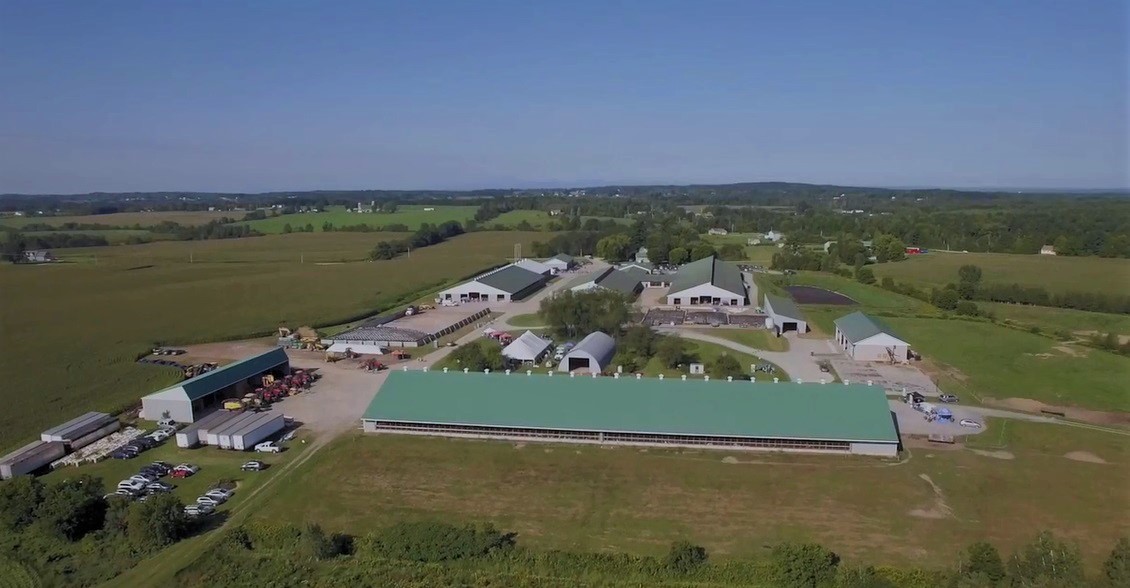 Green Mountain Dairy of Sheldon is a large farm operating under a LFO permit administered by the Vermont Agency of Agriculture.
The dairy currently has 900 lactating Holsteins and 150 dry cows on site. Three state of the art barns, built in 1999, house the milking herd. A heifer barn was completed during 2008 to accommodate 500 heifers and calves ranging in age from 75 days to 22 months.
Our cows are milked 3 times each day, and produce award winning milk, year after year, for the St Albans Co operative Creamery, which supplies the Boston fluid milk market, Ben & Jerry's Ice Cream, Stonyfield Yogurt, as well as several cheese makers. There are 18 full time employees on payroll.
Cropland consists of approximately 1500 tillable acres in four towns, Sheldon, Highgate, Swanton and St. Albans. The farthest fields are 7-8 miles from the dairy. The farm harvests 900 acres of corn and 600 acres of hay. Nutrient management plans are developed in accordance with NRCS Nutrient Management Conservation Standards. Manure management plans are developed under accepted agricultural practices criteria in conjunction with a best management practices program, administered by the Vermont Agency of Agriculture to satisfy requirements of the LFO permit.
Green Mountain Dairy is a large scale farming operation, resulting waste amounts to a large volume of cow manure daily. Increased environmental awareness and regulatory attention to manure disposal tend to focus on contaminants leaching to underground aquifers, contaminant runoff to surface waters, nutrient loading of soils, release of greenhouse gases (GHG) in to the atmosphere, and odor.
Anaerobic digestion is a method of utilizing unprocessed cow manure as a renewable resource, which recognizes our responsibility to the environment. The digester process, completed in 21 days, greatly reduces pathogens, fly and insect larvae, weed seeds, and odor. The remaining bio solids are pumped from the effluent pit at the end of the vessel to a manure solids separator. Separated solids, which have little odor and look a good deal like peat moss, are used as bedding for the herd. The herd requires less of this material than is available, the balance is sold to after markets such as nurseries or composters as soil amendment material.
The separated liquid flows into the dairy's storage lagoon. A large advantage of the liquid from the treatment process is the apparent lack of odor during field spreading. Another benefit is the reduction of phosphorus, nutrient and pathogen loading when spreading, and a favorable response from society.
The process of an on farm anaerobic digester system is to collect raw manure into a receiving tank or vessel. During the first stage, the manure is mixed and heated to 101 degrees Fahrenheit in a vessel creating volatile fatty acids. The second stage grows methanogenic bacteria, which convert volatile fatty acids into biogas, primarily methane and carbon dioxide. The methane biogas is collected from the vessel and used to fuel a combined heat and power generator set. CHP gensets are commercially available reciprocating engines designed to burn biogas.
On a continuous basis of operation, the volume of manure at Green Mountain Dairy produces enough biogas to consistently generate a minimum of 300 kWh per hour of electricity. No seasonal variations are experienced in the system. The anaerobic digester and resulting electricity, classed as renewable energy or green power, provides multiple benefits to the environment, our farm and society. During the past 12 months of operation, we have produced 2,000,000 kWh of electricity to the grid, enough to power 400 average sized homes. Additionally, during the past 6 years we have shared our insight with over 18,000 visitors from 25 countries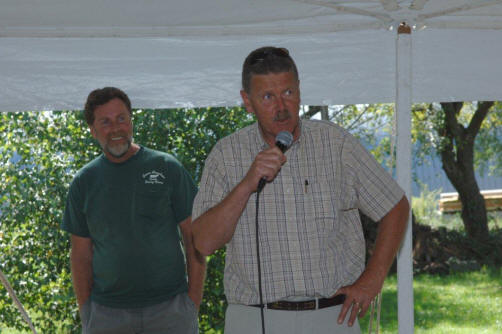 Green Mountain Dairy Open House - May 2007
Brian & Bill Rowell addressing the audience, over 1000 attended